Custom foil bags to the size you want for packaging food, products needing moisture protection, and medical packaging:
We make custom size bags and custom printing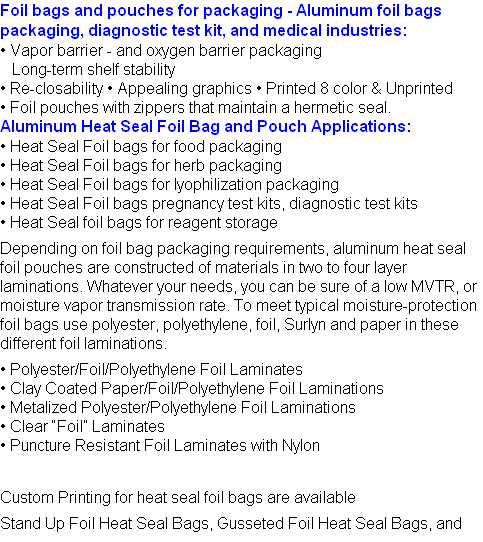 • Vapor barrier - and oxygen barrier
• Long-term shelf stability
• Re-closeable zippers
• Custom printed 8 color process printing
• Now with child resistant bags
Foil pouches are made in USA - materials are FDA approved for food packaging, and medical products
Contact us for quotes and pricing details
We need to know: bag dimensions, number of bags, optional re-closable zipper, optional stand up bags and printing details.
Email us for our guide to ordering foil bags
Aluminum Heat Seal Foil Bag Applications:
• Heat Seal Foil bags for food packaging, peanut butter
• Heat Seal Foil bags for freeze dried packaging
• Foil bags IVD test kits, diagnostic test kits
• Heat Seal foil bags for liquid storage
Depending on foil bag packaging requirements, aluminum heat seal foil pouches are constructed of materials with two to four layer laminations. Foil bags have a low MVTR, or moisture vapor transmission rate. To meet typical moisture-protection, foil bags use polyester, polyethylene, foil, Surlyn and paper in foil laminations.
• Polyester/Foil/Polyethylene Foil Laminates
• Clay Coated Paper/Foil/Polyethylene Foil
• Metalized Polyester/Polyethylene Foil
• Puncture Resistant Foil Laminates with Nylon
Custom Printing, including process printing, for foil bags is available
Stand Up Foil Heat Seal Bags, Gusseted Foil Heat Seal Bags, and Zippered Custom Foil Heat Seal Bags for packaging